No Limit Hold'em


The difference between regular limit Hold'em and No Limit Hold'em is when it comes to the betting amounts.

Minimum raise: The raise amount must be at least as much as the previous bet or raise in the same round. As an example, if the first player to act bets $10 then the second player must raise a minimum of $10 (total bet of $20).

Maximum raise: All of the chips you have at the table!

When playing at Poker-Flush you have a betting "slider" which allows you to bet many amounts between the minimum and maximum allowable bet size. There is no cap to the number of raises in No Limit Hold'em games.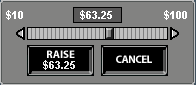 At each No Limit table there is a Maximum Buy-In amount. Poker-Flush currently has four different maximum buy-in amounts ranging from $25 to $200.

All-Ins

If you are connected to the game server when it is your turn to act in a No Limit or Pot Limit game and you timeout by not acting within the allowable 25 seconds, your hand will be FOLDED.




Buy-Ins



| | | | | |
| --- | --- | --- | --- | --- |
| Table Description | Max Buy-In | Min Buy-In | Small Blind | Big Blind |
| Pot Limit $25 | $25 | $10 | 10¢ | 25¢ |
| Pot Limit $50 | $50 | $20 | 25¢ | $50 |
| Pot Limit $100 | $100 | $30 | 50¢ | $1 |
| Pot Limit $200 | $200 | $100 | $1 | $2 |